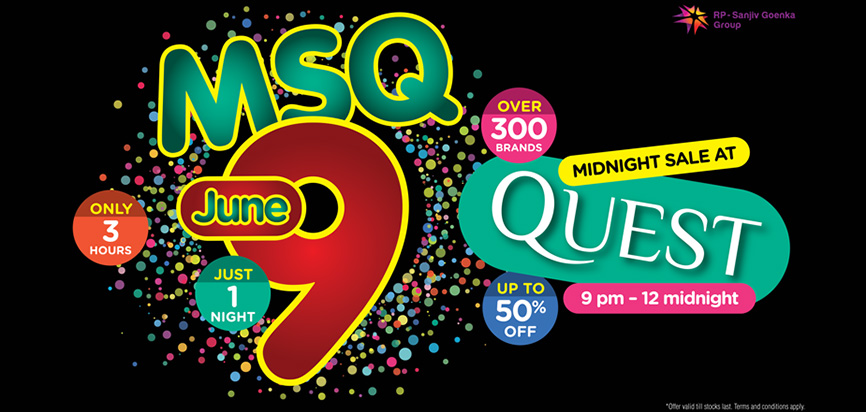 9 Reasons Not To Miss MSQ 2018
When you spend sleepless nights dreaming of treasure hunts under the starry summer skies… when the entire city goes berserk and the whole atmosphere screams – 'Going Going Gone!' – you know it's time for that midnight magic in June!
THE MIDNIGHT SALE AT QUEST
For those who are new to the Annual Mega Sale, we have 9 reasons not to miss it!
SHOPPER'S PARADISE
Quest is a shopper's paradise and when it's raining mind-blowing offers and discounts at a midnight sale, it is undoubtedly a shopaholic's dream come true!
PREMIUMNESS AT YOUR CONVENIENCE
Revel in the glory of owning a few pieces from the biggest luxury brands at a much lower price than usual.
FLAUNT THE NEW SUMMER COUTURE
Indulge in the season's hot and happening labels and make them (you know who) go green with envy!
PAMPER YOURSELF
Take a few hours off your schedule and indulge in some 'me time'. Explore the latest in fashion and luxury products and gift yourself a great time.
SIMPLE FLAT DISCOUNTS ON EVERY PRODUCT
If that 'Up to' sign on offers and discounts feels elusive, MSQ tries to keep it simple with flat discounts and offers on most brands.
REDUCED PRICES ON DREAM BRANDS
If you have been eyeing that exquisite high-street gown or that designer clutch for some time, this is the perfect time to grab them.
IT'S NOT JUST FOR WOMEN
Don't lose out by being biased. MSQ has jaw-dropping offers on the menswear collections too. High fashion apparel, leather products, watches, perfumes, shoes, accessories – you name it, we have it here.
A CONVENIENT TIME FOR EVERYONE
If work has always held you back from tempting sale events during the day, an open house at 9 pm should be exciting news.
A UNIQUE ANNUAL MEGA EVENT
With newer brands being introduced every now and then, the unique mega sale has become a landmark event that the entire city looks forward to, every year.
Nothing haunts us like the things we didn't buy. That too, at the Midnight Sale at Quest.
With all these reasons and more, drop in this Saturday, the 9th of June for an amazing shopping experience. Watch out for this space for more updates about the grand MSQ2018!